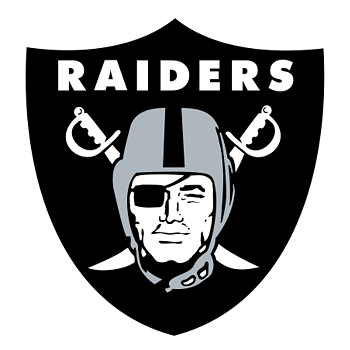 We're up to the third team in the AFC West as we continue our previews of all 32 NFL teams, continuing with the Oakland Raiders, who finished in last place in the division last season.
After a 3-13 season, Raiders management felt a change was in order and brought in former Jaguars head coach Jack Del Rio to hold the same position with the Raiders. QB Derek Carr had a good rookie season in 2014 and with a year under his belt and rookie WR Amari Cooper, the fourth overall pick in this year's draft, on the team, he should do better in his second season than he did last year.
Last year, Carr threw for 3,270 and 21 touchdowns with 12 interceptions — not bad for a rookie who started all 16 of his team's games. His best target in the receiving core was WR James Jones, who had 73 receptions for 666 yards and six touchdowns, while TE Mychal Rivera caught 58 balls for 534 yards and six touchdowns in 10 starts. Last year's leading rusher, RB Darren McFadden, is now on the Cowboys, but rookie RB Latavius Murray, who is expected to be the starting running back, showed some promise late in the season when he got a chance to play, running for 424 yards and two touchdowns in three starts. The defense didn't help matters, finishing last in the league.
Carr is gaining Cooper this season but he's lost Jones, who is now with the Giants. In addition to drafting Cooper, the team is trying to add to the receiving core by signing veteran WR Michael Crabtree, who had 68 receptions for nearly 700 yards with the 49ers last season. The Raiders didn't make any major additions to the defense, but they hope second-year LB Khalil Mack, the fifth overall pick in last year's draft, will improve his numbers entering his sophomore season.
The Raiders schedule kicks off with back-to-back home games against AFC North teams, the Bengals in Week 1 followed by the Ravens in Week 2. Elsewhere on the schedule, they get their home game with the defending division champion Broncos in Week 5. They end their season with a tough four-game stretch beginning in Week 14 with their road game at the Broncos. Weeks 15 and 16 see the Raiders host the Packers and Chargers, respectively, before hitting the road to take on the Chiefs in Week 17. I expect the offense to be improved this season and the defense can't be much worse than it was last year, but the Raiders schedule isn't easy so I don't expect them to improve much compared to last year's 3-13 record. Looking at the schedule, I only see about three wins again, maybe they can add a fourth somewhere, but I don't see them being much better than that.
Source: http;//www.raiders.com, http://www.pro-football-reference.com